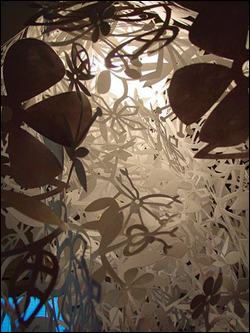 I was recently having a conversation with a client about digital signage and how this could be used in different types of venues. Everything from retail to hotels could easily find a clever usage for this technology as it is.
We then started to talk about the potential of digital signage as the "anchor" for location based services. In brief, these are marketing efforts provided by businesses to your mobile phone, based on your physical location. Steve Jobs just talked about the potential for these types of applications at the release of the new iPhone and I agree that these services could provide compelling offerings. I also believe that the user should be in complete control of whether they receive offers based on the online persona they have built.
I brought up businesses like Whrrl and Lightpole that are allowing users to geotarget products and services to share with their peers. This could be thought of as user generated marketing or at the very least user facilitated marketing.
I then started to think about how location based services could interact with user generated geotargeting. For example:
A person is in a store and they see a book that their friend would like. They go to their Lightpole application on their mobile and start to create a geographical marker. They then receive a notice from that bookstore that they can select from a number of items that can be personalized. Such as a video or a photo. The person selects the video and then records an audio message onto the video and then saves the marker. A text message is sent to their friend letting them know about the recommendation with a map showing how to get to that location. Also, the next time the friend is within 1/2 mile of the book an alert will be sent to their cell reminding them about the book.
Of course a person could do the video or photo on their own and this makes geotargeting so powerful with respect to marketing. This concept is not new and was first mentioned back in 2006 as user generated marketing. This personalized marketing through web enabled word of mouth could also be thought of as another aspect of the corporate social graph. No matter how you define it, the potential is obvious.