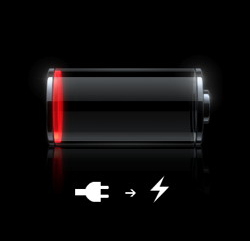 I've just finished reading a white paper by Taptu entitled Exploring the Touch-Friendly Web by Peggy Ann Salz of mSearchGroove. In it, she outlines how a student uses his iPhone during the course of the day and it made me think about how I use the device. I didn't think of myself as a super user but after reading it, I may in fact be labeled as such. Below is my story and I'm sticking to it.
iPhone alarm wakes me up at 5am.
Use iTorch, a "flashlight" app, to find my way down to the basement without turning the lights on. (Don't ever wake a young child or exhausted wife before they're ready. It could cost you your life.)
Get into exercise clothes, set up road bike on Cycle Ops and start to warm up.
Check email accounts (work, personal, "other") and respond to anything pressing.
Check Twitter on Twittelator Pro and respond if needed.
Check weather using iPhone app.
Check CNN using CNN app.
Read some of Chris Brogan's Trust Agent on iPhone Kindle.

Warm-up over; plug the iPhone into stereo adapter and turn the volume up to a reasonable level given the early morning hour.
Workout.
1 hour later, cool down and then put bike away.
Go upstairs and turn on iheartradio app to listen to Lewis and Floorwax on The Fox and make some breakfast.
Take breakfast upstairs and get my wake my daughter up for school.
Wake my wife up and spend some time with her and my son if he is awake.
Shower, dressed and we are out the door.
Get in car and hand my daughter my iPhone so she can play one of several games. Zephyr by Smule. This little app organically creates music and populates the screen with snow flakes where she touches it, when she touches it. This has made for some amazing little concerts in my car as we head towards school. OR Asphalt 4 where she races down the streets of LA, smashing into cars and hitting the nitro boost as often as possible. OR most recently , ABC Phonics. She is learning her alphabet beyond "that song" and has fun with the Balloon Pop section. She also likes Sonic Boom & Sonic Lighter as amusements, again by Smule.
Once I've dropped off my daughter, I call my wife (on my iPhone. It makes calls also!) to let her know we made it.
Get to work and sync the device. When I'm at my desk, the audio alerts let me know that a new email has hit one of my inboxes. When I'm away, from my desk in a meeting, I take it with me for email purposes and check stocks occasionally.
After work, I place the iPhone near the stick shift in case I get a call and/or email. (I don't text or send email while driving due to the threat of bodily harm from my wife.)
On my way home my daughter calls and asks if we can go see a movie. I check my Fandango app as soon as I get to the stop light and see that there really is nothing for a five year old. (I really think she would like Ninja Assassin but my wife has again threatened bodily harm.)
My wife asks me to pick up some dinner on a follow-up call and I go to Osaka Sushi for some Zombie Brain

(Avocado, Spicy Tuna, Crab Meat deep fried topped with Flying Fish Eggs)

and other assorted goodies. (I forget to call my order in.)
While waiting for dinner, I open Foursquare and add Osaka to the database. First one! Food arrives and I'm out the door.
Get home and we eat. I decide to take my son to the aquarium and we head out.
On the way, my son plays with Zephyr or the Koi Pond.
Once at the aquarium he is "wowing" at everything (as a pre-2-year-old should). I'm shooting video of him by the enormous grouper and then upload it to flickr via the flickr app.
Get home and hand my iPhone to my daughter for her to play Asphalt4.
Talk to my wife about the latest songs she would like to buy on iTunes.
Get ready for bed and once family is asleep read more of Brogan's book.
Double check alarm and then got to sleep.
Now, other than the fact that I don't lead the life of a rock star, it is pretty apparent that my iPhone is an invaluable tool in my life. This is an average day and yes, the people at the aquarium know me by my first name. On the weekend the usage shifts with more photos/videos, email sending and game playing, And yes. I love Ashpalt4!
As for the white paper, there are some interesting pieces of information and it made me notice that I don't use my device for search every day. (According to the white paper, the average is 2.5 for smart phone users.) Search in the case of movies happens on the Fandango app and I wonder if they counted those in app searches. I also noticed a subject of location was not mentioned. (Not sure how you write a paper on mobile search and not mention location; at all.) In other words, return searches that are relevant to my location. (I'm searching for a Whole Foods and the system returns Whole Foods that are closest to me.) The end goal of mobile search should be situational (like situational advertising) on some level. (I search on restaurants and it's 7am, the search result would focus on restaurants that serve breakfast and are very close to my location.)
I wonder how a rock star uses their iPhone?