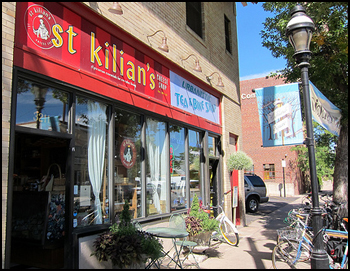 Back in the day, online businesses claimed they had a strategic advantage over brick & mortar businesses because of the reduction in overhead and their ability to sell to anyone in the world. Think Amazon.
With the rise of location based marketing, brick and mortar may now have the upper hand. As of today, unless it's a brand you love, search is the key to ecommerce. You look. You find. You buy. When I posted about the corporate social graph and it's impact on search, I was merely talking about the many online faces of a business showing up in search results. For example, if I search on Ducati and my online presence has been optimized, I should see the following results:
Ducati's site (w/ internal pages)
Ducati's blog
Ducati's YouTube channel
Ducati's Twitter account
Ducati's Facebook site (yes site. Get over the fan page and embrace the not-so-micro-Internet)
Ducati Reviews on other sites
Images from Ducati's Flickr account
A list of Ducati's applications from sites like Appolicious
In other words, the search results page (SERP) should essentially be branded all things Ducati. Google won't allow you to own an entire SERP with one site but if Ducati is everywhere they should be, they could essentially own it. Currently Google includes social elements in your search algorithm and the results and any day now, they will be pushing more location based information forward. They have to, with 1/3rd of all searches including location as a search term. Beyond Yelp, CitySearch and place pages, they will include tweets/tweetups tied to location. Check-ins on Foursquare including sentiment. All of this will contribute to PageRank and if you think about all of the data that is being dumped into a business location, it could help increase their rankings pretty quickly. Depending of course on the algorithm. We'll see how soon Google does this and there may be another business that does this before Google with the launch of their new search. Think Facebook.
Now, take the impact on search and then think about the rise of the mobile influencer and their interaction with businesses at the location level. Those sophisticated users that utilize their smartphone to do everything and share with others. They're checking in, scanning barcodes, scanning QR codes, using AR apps and pushing those experiences to Facebook and Twitter. Within two years, businesses that don't have brick & mortar outlets will be rethinking their online-only efficiencies.