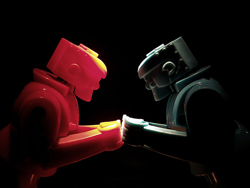 With the acquisition of AdMob, most would believe that mobile advertising will belong to Google. (Heck without the acquisition, people thought they had it in the bag.) Google now has a massive amount of competitive information about Apple's in-app ad serving, which is currently, very successful. Google has owned the most potent form of mobile advertising which is search based and sees moible as a major source of growth. (A recent report has the number of search based mobile advertising comprising 73% of overall mobile advertising by 2013.)
But not so fast. Who could steal the show? Who has site traffic is painfully close to Google's? Who's mobile traffic beats Google's? Who's users access their site via their mobile device 25% of the time? (That's not even the numbers on their app!) Which company's name rhymes with space-hook?
Facebook recently went after the on-deck market with it's Nokia partnership. (There are 244 million mobile users that are NOT on a smart phone in the US.) Back in March, Matt Marshall of VentureBeat, speculated Facebook would make a good mobile ad platform. He cited Facebook's knowledge of their users and being able to target users better. He didn't really connect the mobile dots but does make some good points. I believe the future of search could be user generated. This is not a new idea and Facebook is the closest to making this a reality. If we think about people searching for products or services, people have a natural tendency (and a quickly maturing tendency) to utilize their network to help them find products or services. With this advice providing the foundation for recommendations Facebook simply needs to have a search engine attached.
RockMelt anyone?
I posted about RockMelt, which looks like a Facebook specific search engine and with 25% of Facebook traffic coming from mobile devices, it's hard to imagine that Facebook isn't targeting the ad revenue that Google hoped to own. Facebook also recently signed a search deal with Bing to enable Facebook entries to be returned as search results. Facebook definitely understands the value of its user generated content and that the results may in fact be more specific than Google's.
Also, a byproduct of all of this will be Microsoft's acquisition of Facebook. Microsoft is already an investor and if Facebook can pull off a user generated search engine with search based ads (terrestrial & mobile) they'll be a direct competitor of Google's highly coveted. This is of course is assuming that Facebook can pull this off.
I wish I could sell tickets to this fight.