This is my 4th year at SxSWÂ (3rd year with students). The first two years I attended, I made sure I went to as many sessions as possible. Racing between buildings to ensure I didn't miss any presentations. Collapsing at the end of the day. Exhausted. Brain swollen.
The last two years, I've gone a little slower and have been more selective about what I spend time doing. This has several benefits, least of which is the opportunity for serendipitous happenings. A prime example happened this Sunday . . .
I had just finished a session that had @manojasxena talking about AI. It was a good session and I was with 2 former students, Annie and Jeff. We left the room and we were talking in the hall, when Annie said, "That's Gramatik". I immediately recognized that name as the musician who had recently been tokenized to the tune of $9 million. Tokenization is the process of investing in an individual instead of a company, with Blockchain as the underlying mechanism. (David Bowie pioneered this idea in 1997 when he offered Bowie Bonds and raised $55 million.) Annie then walked over and verified it was him and asked if she could get a picture with him. He agreed and I took the shot. (Jeff got one too!)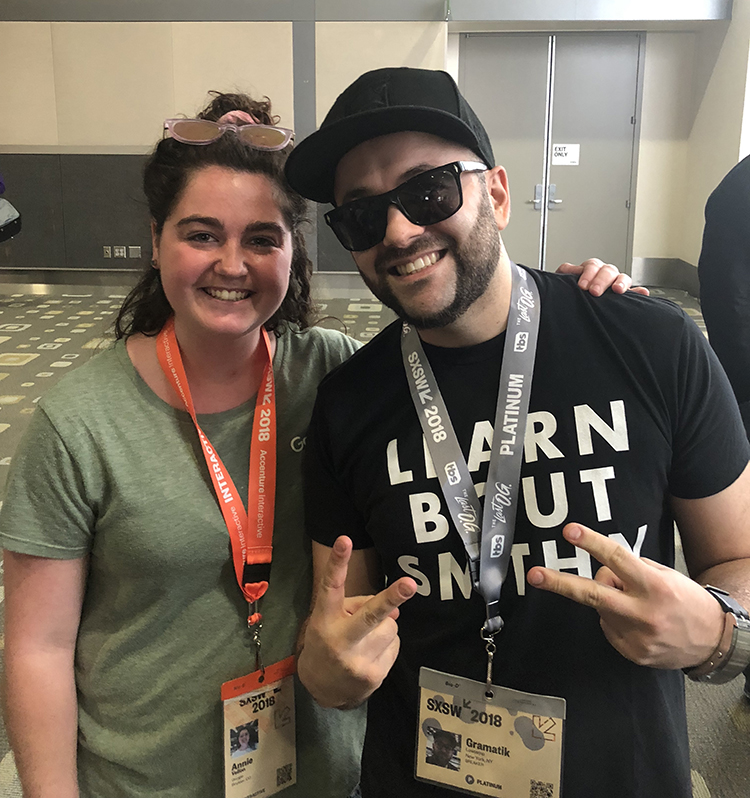 I introduced myself and shook his hand, telling him that I share his story in my Global Product Innovation class when we cover Blockchain. He smiled and said that was great. We then asked him what he was doing here and he said that he was about to head into a panel. So . . . we followed him. He jumped on stage and was one of the panelists discussing his offering and how Tokit had managed the tokenization process. There were two others that were using Tokit to raise capital along with the CEO of Tokit, Zach Lebeau. (Highlights of the panel are below.)
It was a great session and Gramatik is a 
real
fan of Blockchain. He should be. $9 million! Afterward, we ended up out on a terrace with the panelists and many of the people who'd seen the session. Over the next 15 minutes, I spoke with Zach and Gramatik's manager
Jay Rogovin
. My goal was go convince them to guest lecture in my class. I hope I succeeded! As we left, they told us they were performing the next night and encouraged us to come.
We then grabbed some food at Cooper's BBQÂ – the absolute best – and the topic of Elon Musk came up briefly. (The last time he'd been at SxSW was in 2013.) We then headed back to our respective hotels/hostels/etc. When I got home I saw this on TechCrunch. I couldn't believe it. Elon Musk had made a surprise visit to talk for only a couple of minutes and was immediately envious of all those that had been there.
About an hour later, I received the following text: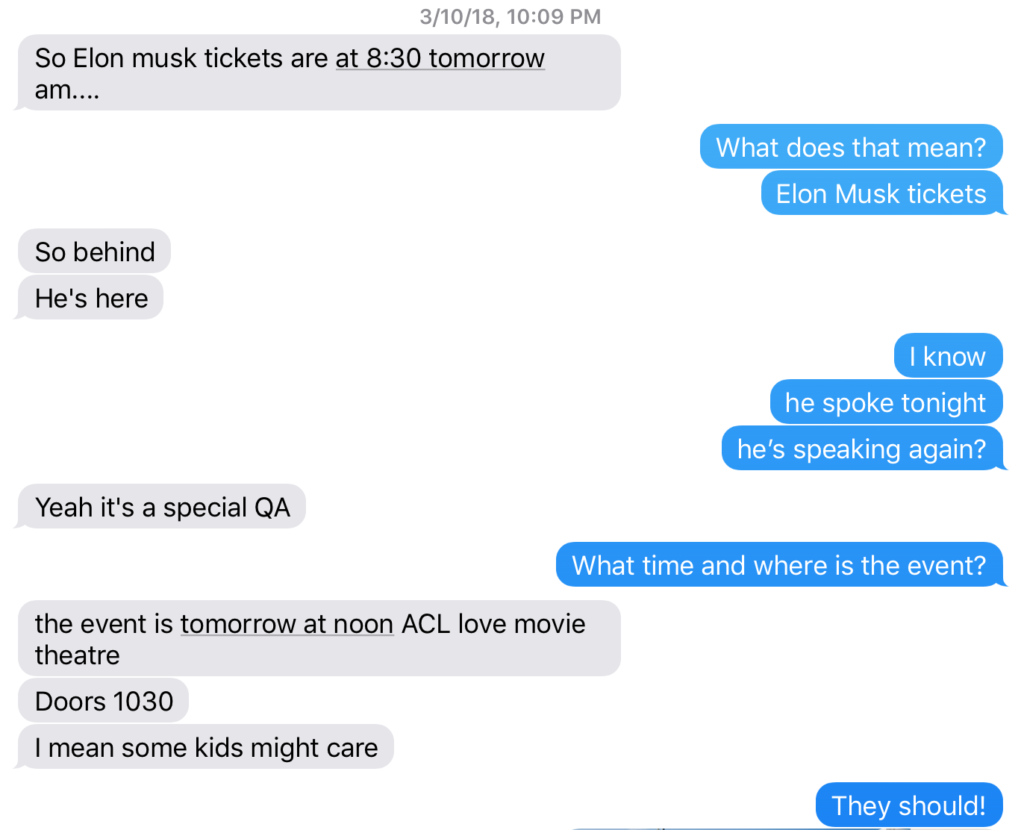 I was shocked and immediately sent an email out, postponing our morning meeting, encouraging all my students to attend. The two students that had bumped into Gramatik went down to the convention center, to see if the line for tickets had started to form. I received a text saying that there was no line and a security guard said come back at 4:30 am. I replied telling them that I would be down there around 4am and then went to sleep.
2 1/2 hours later I woke up. (Daylight savings time sucks.) I took a shower and headed down to the convention center. When I got there I saw a couple of people sleeping outside and thought they were homeless. I then walked around the outside of of the building to see if I could find my students. I sat and waited for a text indicating where they were. Nothing. I got bored and walked back to the other side of the building, only this time, I saw one of my students sitting up and talking with some others that had gathered around the door. I walked over and could not believe it. The people I thought were homeless were in fact, my students! (pictures below)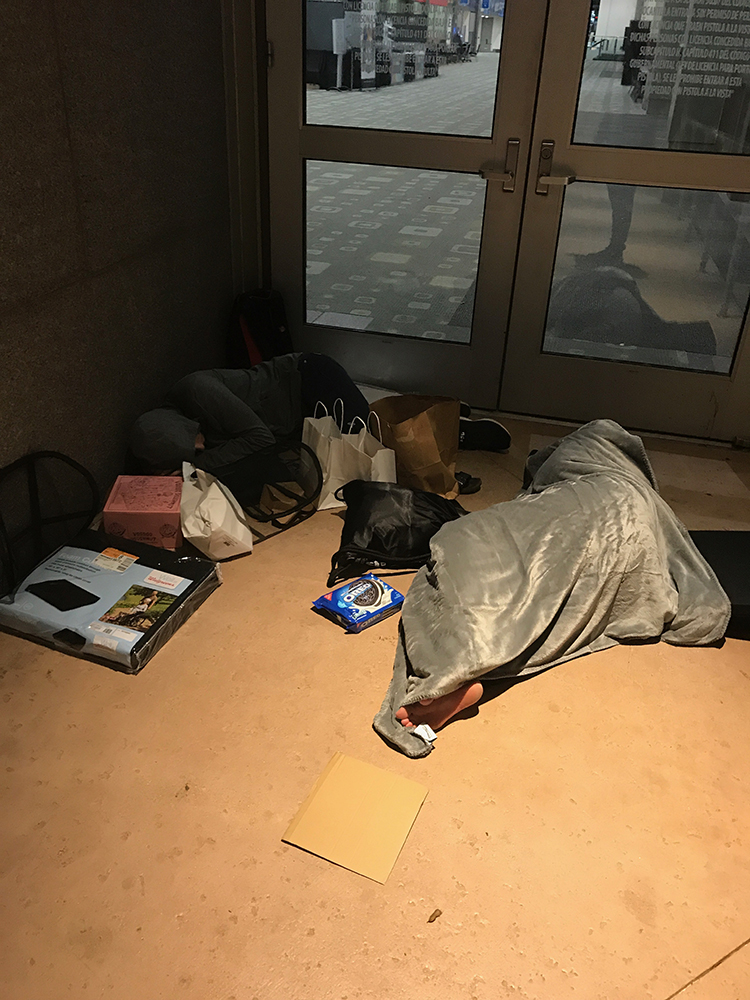 I joined them and we waited. Eating Oreos and wishing for a big glass of milk or coffee to dunk them in. (If you haven't dunked Oreos in coffee: you need to.) The doors opened about 8 and we were allowed to sit inside. By 8:30am the line looked like this.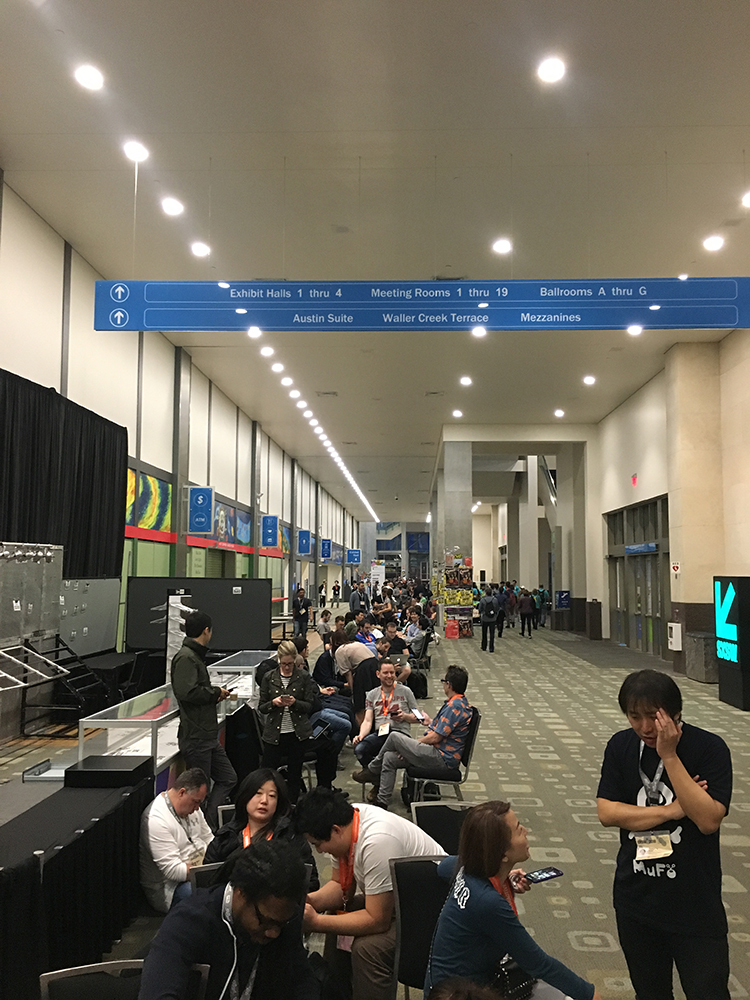 Right before they handed tickets out I saw Hugh Forest, The Chief Programming Officer for SxSW. Hugh helped me organize all my trips with students to SxSW. I jumped up and shook his hand, introducing myself and telling him my students had gotten there at midnight. He was impressed and laughed. At 8:31, they handed out the tickets and I got mine. I was stoked!
We were fortunate to have tickets and it was assigned seating, which made the event stress-free. I then went and got something to eat and then headed down to The Moody Theater. Once inside I sat down waited for the Q&A session to begin. It was a fantastic venue.

At 12:23pm, Elon Musk arrived and the Q&A session begun. The audience had submitted questions before the session began using Slido. The app lets you enter questions you'd like to ask and then upvote the best questions. It became apparent that there wasn't much purpose to the session, other than to share some thoughts on his many projects. Which was okay. It's interesting seeing someone like Musk up close. He's a man that has failed and succeeded wildly and really doesn't care at all about money. It's a raw confidence that affords a type of relaxed effort. That's what it feels like anyway.
Once the session was over, I went home and took a very long nap. When I woke up, I headed down to see Gramatik live. People with SxSW badges got in for free. I had no idea what to expect. I grew up with metal/industrial and later electronica but hadn't had a chance to Google him. It actually felt kinda of cool going without having any expectations.
Once inside, I saw several of my students and they were amped to see the show. A couple of my students had gotten their early and received some "Gramatik Crypto" pins. (I quickly confiscated them.)
After a couple of opening acts, Gramatik hit the stage and in short, it was awesome. It was eclectic. It had the texture of dubstep infused with funk, deep base and a skilled guitarist! The guitarist complemented the music and even ventured into Hendrix territory. (Hendrix is a profoundly dangerous thing to do, but it worked. Careful kids when covering genius.)
After the show I went back to the hotel and crashed.
This SxSW tale embodies the best things about the event. It's a hot-experiential-mess and you need to keep your eyes/ears open or you'll miss numerous opportunities. From Gramatik to Elon Musk to Gramatik in less than 36 hours. Pretty amazing . . .