I finally got a chance to see the "Banksy Movie" (Exit Through the Gift Shop) and it was not what I expected. Never is. For those of you that don't know who Banksy is; he's a street artist. He uses stencils and cans of spray paint to share his point of view. He's from England and other than that, we don't know much. His identity is a mystery. (If that's not enough for you curious types, click here.) The movie was originally intended to be about various street artists such as Banksy, Space Invader and another one of my favorites, Shepard Fairey but ended up being about the film maker. Who's the film maker you ask? His name is Thierry Guetta (aka Mr. Brainwash) and up until he became a film maker he owned a retro clothing boutique in LA. During the film Mr. Guetta has what I would refer to as a mild psychotic episode that ends in success. The documentary shows him 1) video taping every aspect of this life, 2) selling his boutique so that he can follow street artists and 3) becoming a millionaire in one day selling his "own art". How exactly, does this happen? I suggest you rent the film on iTunes. Suffice to say that people see what they want to see and with the right endorsements; most got bamboozled. (Always wanted to use bamboozled in a post.) Why do I think that people got bamboozled? (Three times in one post!) Art is, after all, in the eye of the beholder. The issue lies in that he didn't actually create the art. He instructed people that work for him what his vision was and then had them create it. The movie depicts this as an small scale assembly line and I'm sure that those that bought his prints, after seeing the movie, were feeling a little less than thrilled. (Don't worry. Someday it will be worth a lot of money, but not for the reasons you were hoping.)
So what does this have to do with social media or mobile for that matter? Nothing to do with mobile but this hoax illustrates and excellent point about what's wrong with many social media campaigns/presences. Social media has never been something you can outsource. Even outsourcing it internally. It's something that you as a business/brand owner do OR does not do. The recent Kenneth Cole Egypt Twitter fiasco is a great example of what NOT to do.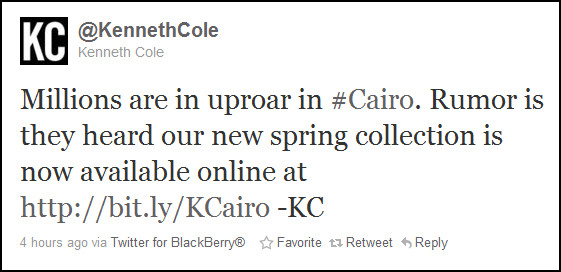 Obviously, this just isn't funny and we're still unsure of whether this was an agency or someone internal. The point is, it wasn't sent by someone that should be sending the tweets. Someone who owns the brand. It was sent by someone who was task focused and missed the bigger picture. Just as you can't outsource art; you can't outsource social media. Social media isn't PR and art isn't advertising. Social media just as art is a pretty big commitment. Are you/your clients ready?